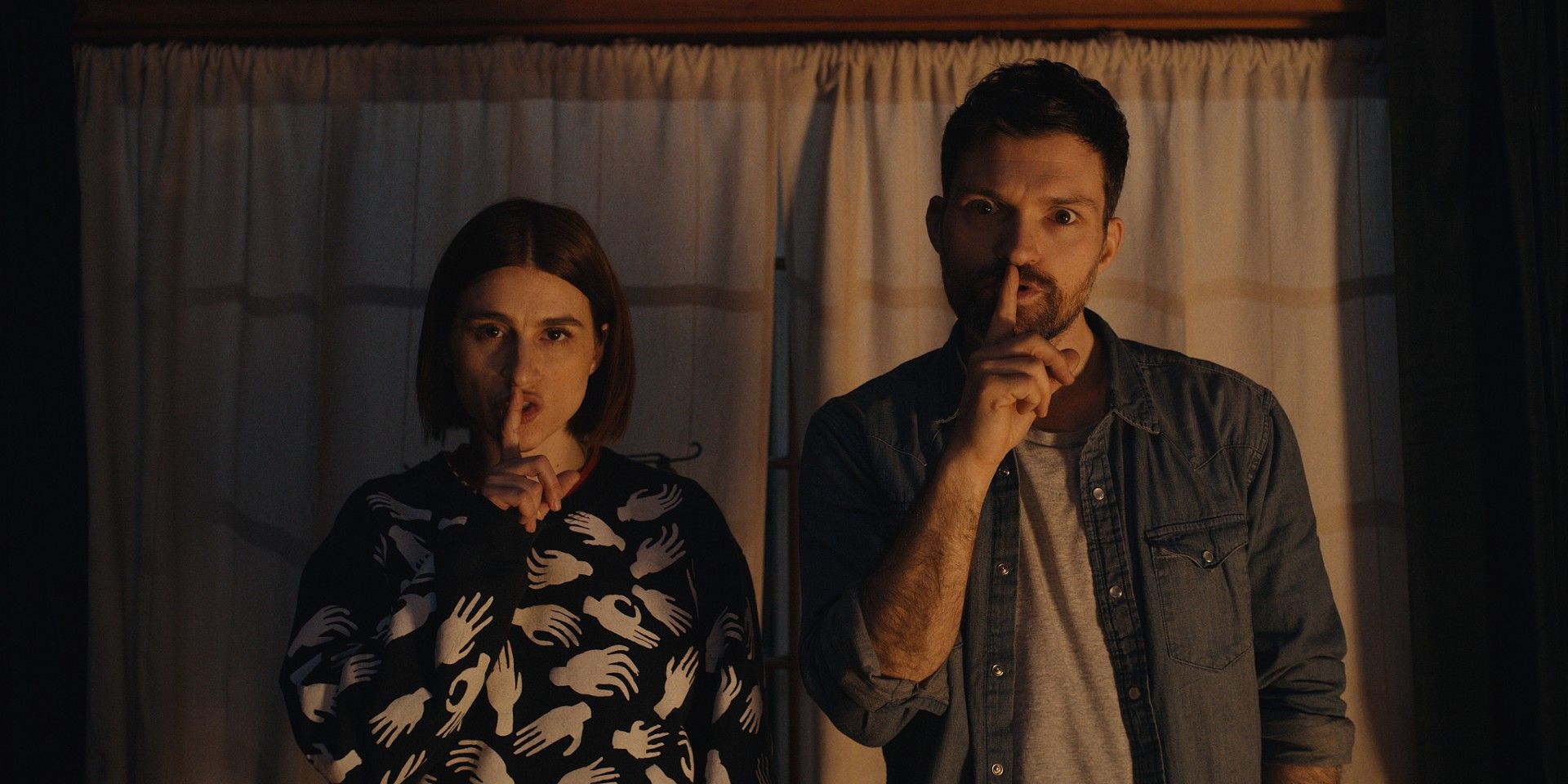 Tomorrow is October 1st, you know what that means? Halloween! All-day, every day! Go buy that 12ft tall skeleton from Home Depot and settle in with your own bag of Halloween candy because it's officially Spooky Season. More importantly, this time of year wouldn't be complete without a variety of appropriately-themed movies. The beauty of Halloween movies is there's something for everyone, too. From family-friendly favorites like Hocus Pocus and Halloweentown to seasonal staples like Scream or (obviously) Halloween, everyone can get in on the celebration. For fans of the latter, Shudder is the perfect place to peruse a variety of thrilling horror movies. And what better way to kick off October than with their brand new release, Scare Me. Though it sometimes suffers from its 104-minute runtime, Scare Me is an incredibly fun and clever debut feature from actor-writer-director, Josh Ruben.
At the heart of this story is Fred (played by Ruben) an aspiring writer who jets off to a remote cabin in the Catskills to complete his thrilling screenplay about werewolves. While there, he runs into Fanny (Aya Cash), a best-selling author who's overflowing with brilliant ideas. Although the two meet briefly on a jog one morning, they're reconnected after a power outage. Fanny, bored, shows up on Fred's doorstep with an idea: try and scare each other to stay up all night. 
In the words of one of my favorite movies from last year, Scary Stories to Tell in the Dark, "Stories heal. Stories hurt. If we repeat them often enough, they become real." Ruben's film relishes in the power of words, but more importantly, the power of a good story. Though the film largely depends on its script and charismatic leads, it also reels in viewers with its incredible sound design. Whether it's the low growl of a werewolf stalking up the stairs or a squeaking oxygen tank gliding slowly across the floor, each story is elevated by the subtle sounds around it. Physically, there's nothing there, but Cash and Ruben are convincing enough that you often forget you're only hearing people tell stories to each other. 
Scare Me shines a bright spotlight on its actors, allowing them to take full control of the narrative and bring their own captivating flair to their respective stories. Cash, in particular, is fantastic to watch. Her comedic timing is impeccable, but it's her ability to transfix viewers with an enthralling story that's damn impressive. Both actors play off each other's energies in an exciting way, too, bringing Scare Me to new heights with each story. It's clear that they're both passionate about the genre and carry that enthusiasm into their roles as well. 
And that's the joy of it, right? So many films nowadays count on big, flashy set pieces or costumes to keep a viewer invested, whereas Scare Me relies heavily on its script and leads to get the job done. And, in the end, this absolutely works in its favor. However, at times, it does feel as if it bit off more than it could chew. During its runtime, there are a few moments where these stories start to drag on. But, thankfully, Ruben and Cash – along with a brief but hilarious appearance from SNL's Chris Redd – are able to pick things back up again when the story starts to lull. 
All in all, Scare Me is wildly inventive when it comes to unraveling its narrative. Not only that, but its layers stretch far beyond just telling scary stories. Cash and Ruben express the nuances of their characters in very subtle ways, giving the viewer a sneak peek into their lives well beyond the confines of this small fire-lit cabin in the woods. It adds depth to Ruben's film and shows how creativity is truly limitless. Scare Me is proof that sometimes all you really need is a good story.
Scare Me will be available on Shudder tomorrow, October 1st.
Rating: 8/10