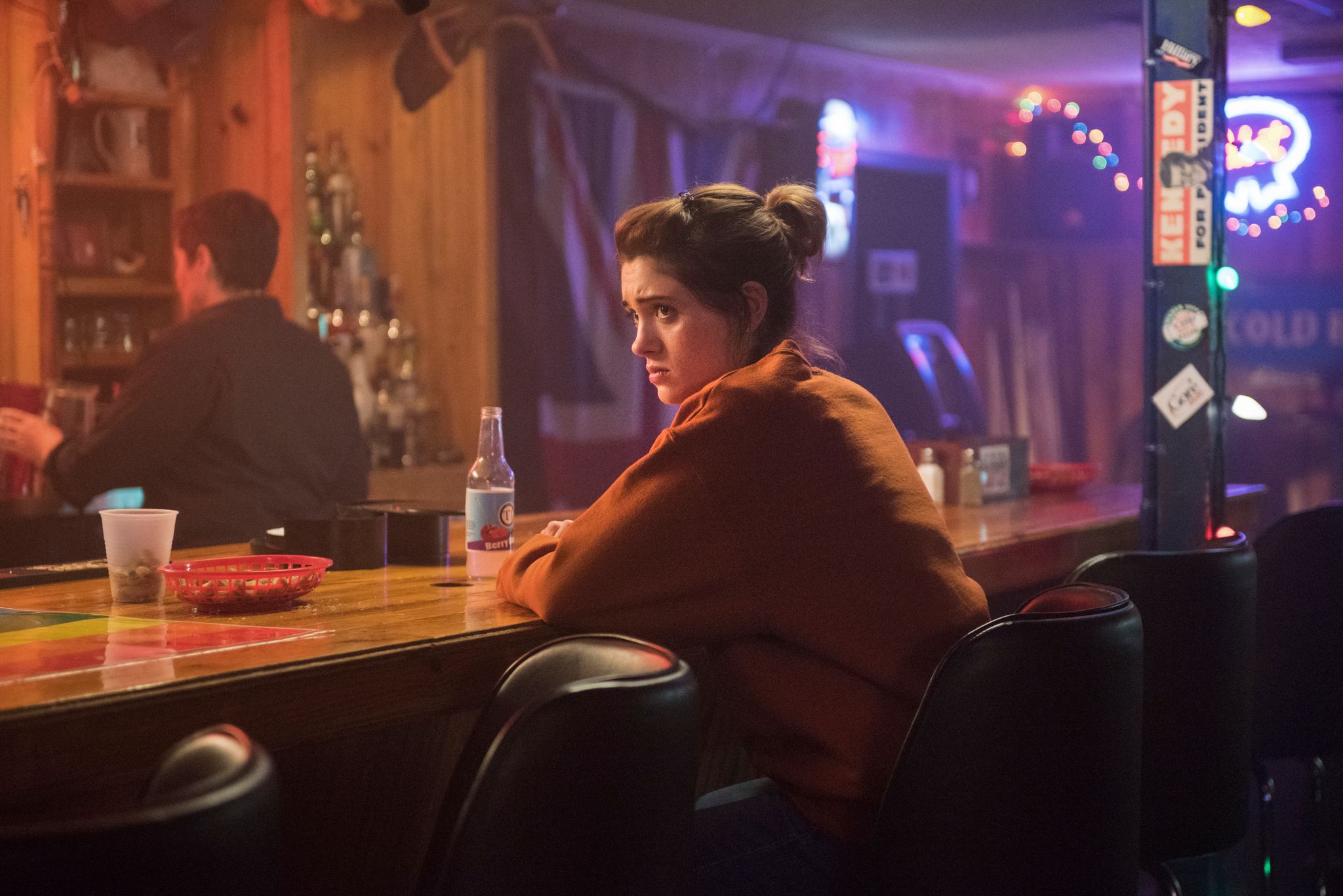 2020 has been... something. I can't find the right word for it, actually. It's been a year filled to the brim with life-changing events, and for me, I've occasionally found myself frantically searching for some form of stability. Sometimes, that moment of calm comes in the form of a long walk outside with my dogs or reading a book, but mostly it comes in the form of entertainment. If there's one thing that's kept my mind busy during quarantine, it's a delightful combination of television, video games, and movies. And even though movie theaters remain shut down for the latter (with no reopening date yet in sight... and probably not for a while), I'm unbelievably happy that a number of new releases have found homes and delighted audiences anyway. This is something that I hope continues with Karen Maine's debut feature, Yes, God, Yes, which provided me with a wholesome dose of genuine, funny storytelling. Spearheaded by an exceptionally nuanced performance from Natalia Dyer, Maine's debut feature film is authentic storytelling at its best, capturing an important and complex coming-of-age milestone with hilarity and sincerity. 
Loosely based on Maine's own experience, and previously made into a short film back in 2017, Yes, God, Yes centers on Alice (Dyer), a Catholic 16-year-old from a very devout family whose wildest moments with friends are mainly movie trivia games on AOL (which, to be honest... sounds really fun) or games of Snake on her very bright yellow mobile phone. However, one day, a racy AOL chat from an unknown user pops up out of the blue, and Alice begins to feel things that she's unsure how to address. As the chat escalates, Alice finds herself curious about these feelings and, in the process, discovers masturbation. She promptly shuts off her computer and begins to feel an immense amount of guilt about her new discovery, which only spirals once she heads back to school. 
Couple these newfound urges with a nasty rumor and you get a very unpleasant shame-and-blame cocktail. Even so, Alice is hopeful that a weekend-long retreat can help fix these many unpleasantries that are being hurled her way. But despite seemingly cheerful campfire sing-a-longs and emotional story circles, Alice can't seem to escape these feelings or the adverse reputation that's been bestowed upon her by her classmates. However, not everything is as it seems, as Alice soon discovers that she isn't the only one harboring secrets. Even some of the retreat's most dedicated individuals are hiding similar secrets of their own, showing that not everyone practices what they preach. 
At a brisk 78 minutes, Yes, God, Yes is a very quick watch, and that works out in its favor. Though brief, there's a heart and genuineness to Maine's story that pushes it along at a perfect pace. As a viewer, you long to see Alice find a safe, non-judgmental outlet to explore her wants and needs as she matures, and the payoff is incredibly worth it. These many complex emotions Alice experiences are further elevated by Dyer's performance, which is subtle but compelling nonetheless. There's a curiosity to Alice that can't be squelched, and Dyer maintains that throughout the film's runtime, even as things around her begin to escalate. Maine doesn't hide the aura of shame that lingers over Alice almost constantly, either, but rather, she highlights how Alice creates space for herself to grow and learn about what she wants without suffocating under the pressure of what others expect from her. 
Coming-of-age stories are a dime a dozen, but there's something incredibly special about the ones that focus on a very particular person's life experience. Maine's style of filmmaking simultaneously gives Dyer plenty of space to bring Alice's personality to life while still leaning into specific moments that feel important to her personally. There's a delicate balance here between humor and drama as well, which Maine treads with ease, slipping between every emotion with effortless confidence. Yes, God, Yes solidifies Maine as an exceptional storyteller with a genuine touch for crafting heartfelt, original stories. Not only is her storytelling worth experiencing, but Dyer's natural knack for comedy will be an instant hit with every viewer.
Yes, God, Yes is rated R and releases today in Virtual Cinemas and select drive-ins, along with Digital and VOD on July 28.
Rating: 8/10