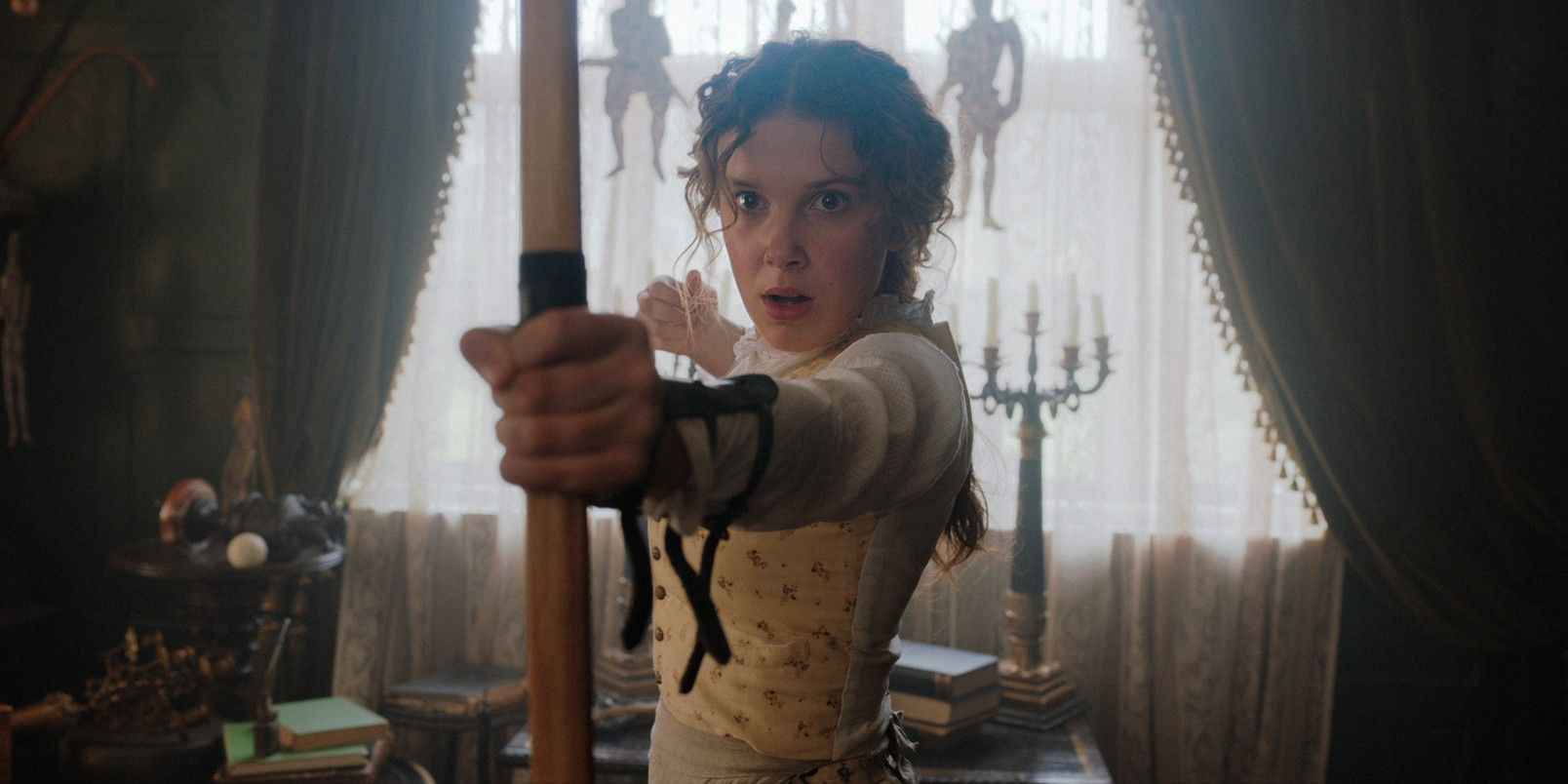 As a massive fan of Fleabag -- and everything involving Phoebe Waller-Bridge, to be completely honest -- I was very excited to see what Harry Bradbeer's plans would be with Netflix's latest outing, Enola Holmes. Not to mention, with Stranger Things' Millie Bobby Brown starring as the charismatic titular character, I had high hopes that this movie would be pure, joyous fun. Thankfully, it was exactly what I was hoping for. With a spunky Millie Bobby Brown leading the way, and with fantastic direction from Harry Bradbeer, Enola Holmes is an absolute delight. 
Adapted from the series of novels, titled "The Enola Holmes Mysteries" written by Nancy Springer, the movie opens with Enola on her way to meet her brothers, Sherlock (Henry Cavill) and Mycroft (Sam Claflin), at the train station. After discovering that her mother (Helena Bonham Carter) has mysteriously disappeared on the morning of her 16th birthday, she hopes that they will have all the answers as to where she went. Unfortunately, they assume that she left on her own, claiming she was probably "mad or senile," but Enola believes something strange is afoot. 
…and something strange there is, as Enola discovers a puzzle hidden within the birthday gift her mother gave her. Realizing that her mother actually left behind plenty of clues specifically for her, she decides to sneak out and tackle this mystery on her own, disguising herself to slip away undetected. From here, she embarks on quite the adventure that leads her from the countryside all the way to London, meeting plenty of new faces along the way. 
Similar to Fleabag's direction, Bradbeer has Brown breaking the fourth wall numerous times, and she does so without missing a beat. Not only are there plenty of moments for exposition, but also brief moments of eye rolls, side-eyes, and perfect facial expressions in reaction to dialogue happening between characters. Brown is incredibly charismatic and effortlessly fits these one-on-one moments between her and the viewer into the story. She truly shines in this role, embodying the free spirit and spontaneity of Enola with ease, and having her connect with the viewer in such a way adds another clever layer to the story as it unfolds. 
However, there are many times when the film almost feels like it's holding itself back. For example, when it comes to the supporting cast, it often feels as if some are never used to their full potential. In particular, I would have loved to see more from Helena Bonham Carter as Enola's mother. For being such a wild and exciting inspiration for young Enola, it's a shame we don't get to see more of her antics throughout the film. The same goes for Fiona Shaw's Miss Harrison, the headmistress of the boarding school that Mycroft is hell-bent on sending Enola to. On the other hand, though, Cavill's Sherlock and Claflin's Mycroft savor every moment spent on screen, with the former as charming as ever and the latter being almost over-the-top uptight. 
There are also moments when the story feels too drawn out. At 123 minutes, there's a lot of time to fill, but Bradbeer does his best to keep the audience enthralled with interesting puzzles and plenty of twists and turns. Mainly, this film is largely carried by Brown, who relishes in this wonderfully feminist story while blazing a trail for what's sure to be Netflix's new YA hit (franchise? Probably). It's by no means perfect, but it's still a ridiculously fun adventure.
Enola Holmes is rated PG-13 and will be available on Netflix on September 23rd.
Rating: 7/10